Where to dine in Dayton for Valentine's Day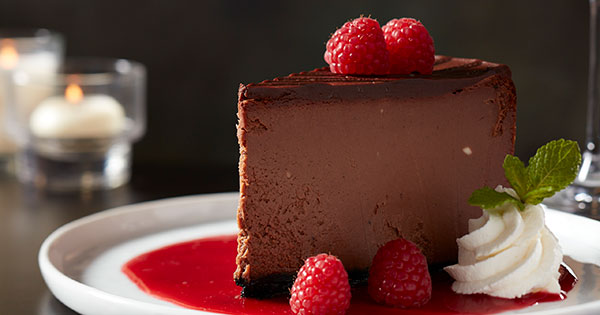 Not sure where to celebrate Valentine's Day with your special someone? No problem.  Many local restaurants are offering specials for Valentine's Day and together with the Miami Valley Restaurant Association, we've rounded up some of the best menus for you to peruse.  
Reserve a table for you and that special someone at one of these fine restaurants.
Basil's On Market – Beavercreek
Available: February 10th-18th (Mon-Thurs: all day. Fri & Sat: starts at 4 p.m. Sunday closed.)
$80 for 2/ $40 for 1
Includes 1 glass of house wine or draft beer
FIRST COURSE
Basil's house salad: Fresh greens with pepperjack cheese, cucumber-tomato ceviche, and fried garbanzo beans with Basil vinaigrette.
SECOND COURSE
NY Strip topped with basil butter, red-skin smashed potatoes and roasted asparagus.
OR
Cheese Tortellini with classic meatballs and basil marinara (can substitute chicken) topped with Parmesan cheese and fresh Basil.
THIRD COURSE
**Shared dessert**
Chocolate brownie with
fresh strawberries and whipped topping.
Basil's On Market – Beavercreek
2729 Fairfield Commons Blvd 45312
Call (937) 702-3160 for reservations
Basil's On Market – Troy
Available: February 10th-18th (with Sunday being closed)
$70 for 2/ $35 for 1
Includes 1 glass of house wine or draft beer
FIRST COURSE
Basil's house salad with
your choice of dressing.
SECOND COURSE
Blackened salmon with mushroom risotto,
Asparagus, and a red pepper coulis.
OR
Sliced medallions with a red wine demi-glaze,
mushroom risotto, and asparagus.
THIRD COURSE
Chocolate brownie heart with
fresh berries and whipped topping
Basil's On Market -Troy
18 N Market Street 45373
Call (937) 524-5916 for reservations
Valentine's Day Menu at Corner Kitchen
Available: Friday, February 10 – Tuesday, February 14
Starter:
Crab Cake
-lump crab,old bay, chipotle remoulade, greens
Entrees:
Duck breast
-Five spice rub, tart cherry reduction, grilled asparagus
Corner Carbonara
-bacon, grist provisions bucatini, peas, parmesan
Filet Oscar
-10oz Keener Farms Filet, lump crab cake, grilled asparagus, bearnaise
Salmon and Beet Risotto
-Pan seared salmon, goat cheese, dill creme fraiche
Dessert:
Chocolate Lava Cake
-Bourbon macerated berries, whipped cream
Lemon Mascarpone Dumpling
-Strawberry preserves, whipped cream
Corner Kitchen – 613 E. Fifth Street, Dayton, OH 45402
Call (937) 938-5244 for reservations
Valentine's Day at Chappys Social House – Washington Township
Available: February 10,11, 12 & 14
Valentine Lovetini – 8.95
Citrus Vodka, Malibu Rum, Peach Schnapps, Cranberry Juice
CHAPPYS SURF & TURF – 24.95
10oz Sirloin Steak topped w/4 Cajun Fried or Grilled Shrimp served w/choice of 2 sides
THREE COURSE DINNER FOR TW0 – 49.95
FIRST COURSE
Chappys Famous Chicken Tortilla Soup
MAIN COURSE
(Each Person Choose One)
½ Slab Slow Smoked BBQ Ribs – Sirloin Steak (10 oz) 2 Pork Chops – Beer Brined or Grilled
Bourbon Glazed Salmon – Beer Battered Cod – Grilled Mahi Mahi – Smothered Chicken Breast
(Each person picks 2 sides)
THIRD COURSE – DESSERT TO SHARE
Chappys Chocolate Texas Sheet Cake
Chappys Social House – 7880 Washington Village Dr, Dayton, OH 45459
Call (937) 439-9200 for reservations
Valentine's Day Dinner at The Amber Rose – Troy
Available: Tuesday February 14th through Saturday February 18th 4pm-8pm
In addition to our full menu, enjoy these specials for Valentine's Day
Shrimp Cocktail – 15
Prime Rib – 36 served with loaded baked potato
Vodka Pasta – 23Topped with pan seared shrimp
Amber Rose Restaurant – 1400 Valley Street, Dayton, OH 45404
Call (937) 228-2511 for reservations
Valentine's Day at Firebirds Wood Fired Grill – Miamisburg
Table for Two
Available February 1-28th 4pm-close
$39.95 Per Person
Starter
(Select one for the table)
Lobster Queso
Steakhoue Meatballs
Seared Ahi Tuna*
Classic Wedge Salad for Two
Main Courses
(Select your entree)
7 oz Filet* – Lobster and spinach fondue/choice of side
Honey Chile Glazed Grilled Salmon* – Ancient grains pilaf/asparagus/roasted tomatoes/grilled corn/charred corn salsa
Tomahawk Prime Pork Chop – Wood-grill certified Duroc pork chop/red wine poached apples/green chile mac & cheese (photo above)
Jumbo Lump Blue Crab Cakes – Bold remoulade/wonton slaw/choice of side
Dessert
(Select one for the table)
Creme Brulee Cheesecake
5-Layer Lemon Cake
Black Tie Chocolate Cheesecake (photo top)
Firebirds Wood Fired Grill – 3500 Rigby Road, Miamisburg, OH 45342
Call 937-865-9355
Fleming's Steakhouse Valentine's Day Three-Course Menu – Beavercreek
Available: February 10 – February 14
All entrées include salad and dessert.
Salad  choice of
FLEMING'S SALAD** walnuts, tomatoes, dried cranberries, red onion, lemon balsamic vinaigrette
CAESAR SALAD romaine, parmesan, fried capers, crispy prosciutto
Entrée  choice of
PETITE FILET MIGNON & CRAB-STUFFED SHRIMP SCAMPI*  |  85  (photo above)
three shrimp stuffed with savory crab filling, sautéed roasted campari tomatoes & white wine herb butter
PETITE FILET MIGNON & LOBSTER TAIL SCAMPI*  |  95
sautéed roasted campari tomatoes & white wine herb butter
PRIME SURF & TURF FOR TWO*  |  230
35oz prime tomahawk*, north atlantic lobster tail, four crab-stuffed shrimp, sautéed roasted campari tomatoes & white wine herb butter
Dessert  choice of
CHOCOLATE GOOEY BUTTER CAKE
honeycomb brittle, chocolate sauce & caramel
NEW YORK CHEESECAKE
classic preparation, strawberry red wine sauce & fresh mint
Cheers to your love…
THE SCARLET CLOVER  |  16
Gray Whale Gin, Fino Sherry, fresh-squeezed lemon juice and strawberry
DAOU CABERNET SAUVIGNON, PASO ROBLES  |  18  /  72
Black raspberry, pomegranate and cherry preserve meld with herbs and cranberry on the palate
Fleming's Steakhouse – 4432 Walnut St (The Greene), Beavercreek 45440
Smith's Boathouse Valentine's Dinner for Two – Troy
Available: Feb. 10th, 11th, and the 14th
If you're looking for a place to take that special someone to celebrate, we'll be offering an AMAZING Valentine's Dinner for Two – $125
32 OZ BONE IN WAGYU TOMAHAWK STEAK
2 BUTTER POACHED JUMBO TIGER SHRIMP
GRILLED VEGETABLES AND CRISPY POTATOES
HOUSE SALAD INCLUDED
CHOCOLATE COVERED STRAWBERRY MOUSE
Don't forget to make your reservations. Limited quantities available!
Smith's Boathouse 439 N Elm St, Troy, OH 45373
Call (937) 335-3837
The Caroline Valentine's Dinner – Troy
Available: Friday 10th, Saturday 11th, and Tuesday, February 14th.
APPETIZERS:
CRAB CHOWDER – CUP $6 BOWL $9
5 JUMBO SHRIMP SERVED WITH OUR HOUSE COCKTAIL SAUCE $16
AHI TUNA- SEARED RARE, SERVED WITH WASABI AND SWEET & SPICY ASIAN SAUCE $16
3 TRADITIONAL PORK EGG ROLLS WITH SWEET & SOUR AND HOT MUSTARD, ASIAN SLAW $13
THE CAROLINE'S CRAB CAKES- SERVED WITH REMOULADE SAUCE $16
BOURBON MUSHROOMS- SAUTEED IN BOURBON, BUTTER, GARLIC AND ONIONS. SERVED WITH GARLIC BREAD $12
SALADS:
CAESAR SALAD $7
HOUSE WEDGE WITH CHOICE OF DRESSING $7
CAESAR SALAD –WITH GRILLED CHICKEN $16 GRILLED SALMON $18 CRAB CAKES $18 SEARED AHI TUNA $18
DINNERS:
ROAST PRIME RIB OF BEEF AU JUS, HORSERADISH 12 OZ.  $34
THE CAROLINE HOUSE STEAK-SEASONED 10 OZ. CERTIFIED  ANGUS TOP SIRLOIN ON A BED OF BURGUNDY MIXED MUSHROOMS   $29
6 OZ. CERTIFIED  ANGUS FILET MIGNON GARNISHED WITH BURGUNDY SAUCE, PORTABELLO MUSHROOMS AND TANGLED ONION RINGS $34
BLACKENED SALMON WITH A VODKA TOMATO BASIL SAUCE OVER PENNE PASTA $28
CHICKEN MARSALA – SAUTEED CHICKEN BREAST IN A BUTTER, MUSHROOM AND WINE SAUCE $25
JUMBO SEA SCALLOP LINGUINI – 5 SEA SCALLOPS WITH ONIONS, MUSHROOMS, GARLIC AND SUNDRIED TOMATOES IN A MADEIRA WINE BUTTER SAUCE $31
SIDES:
STEWED TOMATOES
BAKED POTATO
FRESH GREEN BEANS
PREMIUM SIDES:  $5.00
ROASTED ASPARAGUS WITH PARMESAN— LATKES POTATOES WITH SRIRACHA SOUR CREAM
DESSERT:
TRIPLE CHOCOLATE CAKE WITH  KAHLUA GANACH  $8
NEW YORK STYLE CHEESECAKE $8  REESE'S CUP CHEESECAKE $9
COFFEE ICE CREAM OR DUTCH APPLE ICE CREAM $8
VANILLA CREME BRULEE $9
The Caroline – 5 S Market St, Troy 45373
Call (937) 552-7676
The Florentine Valentine's Day Specials – Germantown
Available: Feb 10 – 19, 2023* , **
$100 Surf and Turf Dinner for Two
26oz Porterhouse, 2 Lobster tails, 2 side salads & 2 loaded baked potato's
OR
20oz Ribeye, 2 Lobster tails, 2 side salads & 2 loaded baked potato's
$50 Farm and Sea
Appetizer: Shrimp Cocktail
Entrée: Chicken
Florentine, Lobster tail, side salad and roasted red potato's
* Reservation required with meal selection
**All specials include a ½ dozen roses
The Florentine – 21 W Market St, Germantown 45327
Call (937) 855-7759
Valentine's Day Menu at Rip Rap Roadhouse – Huber Heights
$50 A couple – choice of salad, one entree each with side and a dessert to share
Available: Tuesday, February 14
SALAD
CAESAR SALAD
Fresh chopped romaine tossed in our house made Caesar dressing. Topped with croutons and shaved parmesan
INSALATA DELLA CASA
Fresh greens, cucumbers, tomatoes, bacon, crispy pasta, and creamy Parmesan dressing
ENTREES
Peppercorn Steak
8oz USDA Prime 45-day wet aged sirloin. Cooked to order and topped with a creamy peppercorn sauce. Served with fresh mashed potatoes
Chicken Piccata
Parmesan crusted Chicken Medallions tossed with capers and fettuccini and dressed in a lemon butter sauce
Chicken & Shrimp Carbonara
Seasoned chicken and shrimp tossed with fettuccini in a creamy sauce with bacon, sundried tomatoes, and peas
Southwest Salmon
Blackened Salmon topped with black bean corn salsa served on a bed of cilantro lime rice then dressed with a house made southwestern sauce
DESSERT
MINI MIXED BERRY BEIGNETS
Three beignets filled with mixed berry jam and drizzled with raspberry sauce
MINI ASSORTED CHOCOLATE BEIGNETS
Dark chocolate, white chocolate and chocolate hazelnut beignets drizzled with chocolate sauce
Consumption of undercooked meat, poultry, eggs, or seafood may increase the risk of food-borne illnesses
Rip Rap Roadhouse – 6024 Rip Rap Rd. Huber Heights, OH 45424
Call (937) 236-4329
Roost Modern Italian – Dayton
Available: February 14
We don't have a Valentine's Day menu for Roost as yet, they are still working out the details.  But we're just going to leave this here…
Affogato•Whiskey•Chocolate Cake  "A Love Story"
You're welcome.
Roost Italian 524 E. Fifth St., Dayton, OH 45402
Call: (937)-222-3100