Buckeye Vodka Battle of the Bartenders
Buckeye Vodka Battle of the Bartenders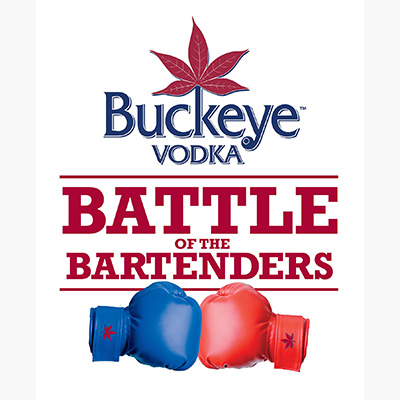 When: Wed, Mar 8 at 6:30-9:30 PM
Where: The Steam Plant
Admission: $45-$65
Let's get ready to RUMBLE Dayton! The Buckeye Vodka Battle of the Bartenders is BAACCK after 3 long years! Defending Champion Winds Cafe and Defending People's Choice winner Roost Modern Italian. Who will take the title in 2023?
Join us for a night that focuses on the Best Bartenders in town as they battle for first place and the title belt! Sample food from the Miami Valley's finest restaurants and Buckeye Vodka concoctions from the Miami Valley's most talented bartenders. What started as the first bartender event brought to the Miami Valley has turned into an exciting competition that you do not want to miss!
Restaurants include:
Carver's Steakhouse
CBCB Grill
El Meson
The Last Queen in Enon
Loose Ends Brewing
Meadowlark Restaurant
Rip Rap Roadhouse
Smith's Boathouse
Watermark Restaurant
Wheat Penny Over and Bar
Tickets are $45 in advance (Until March 6) after- $55 day of and include 1 Buckeye Vodka Flight Card (Your choice of 4 Buckeye Vodka cocktails from 4 different restaurants , food from each restaurant, and 1 voting chip. Doors open at 630p.
Limited number of VIP tickets include arrival at 6pm, food from each participating restaurant and 2 Buckeye Vodka Flight Cards (8 Buckeye Buckeye Vodka Restaurants, food from each restaurant, and 2 voting chips for People's Choice). $65
Each ticket includes food from each restaurant as well!
This event sells out quickly!