Dayton Chefs United presents Dinner Party
Dayton Chefs United presents Dinner Party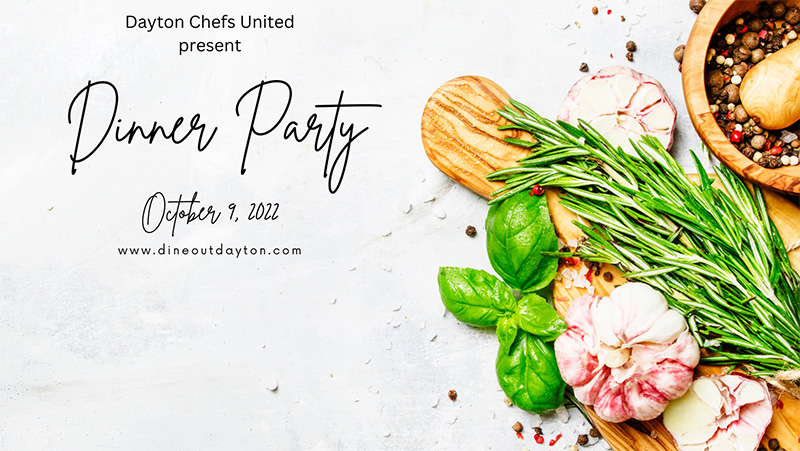 When: Sun, Oct 9 at 4:00-5:00 PM
Where: Meadowlark Restaurant, 5531 Far Hills Ave, Dayton, OH 45429
Admission: $150.00
Gather for drinks at 4pm, sit down for dinner at 5pm!
Some of the top chefs in the Miami Valley are coming together to create a dinner experience you will never forget. The event will take place Sunday, October 9, 2022 at Meadowlark Restaurant. This first-time event was created by the chefs themselves, to raise funds for one of their own, a career-long Miami Valley restaurant professional who, because of sudden and now long-term physical health issues, is in need of our help. We are calling ourselves DAYTON CHEFS UNITED, and we bring you…
Dinner Party!
7 Chefs will cook 7 Fabulous Courses for Your Enjoyment!
Chef Zack Weiner- Jollity
Chef Adrian Madrigal- Loose Ends Brewing Co.
Chef Dave Rawson- Meadowlark Restaurant
Chef Dana Downs- Roost Modern Italian
Chef Margot Blondet- Salar Restaurant and Lounge
Chef Maria Walusis- Watermark Restaurant
Chef Liz Valenti- Wheat Penny Oven and Bar
This event is limited to 125 people. Tickets are $150 and include a limited amount of donated wine, beer, and a signature cocktail sponsored by Buckeye Vodka. A Cash Bar with a wider choice drinks will also be available, with all cash bar profits going to the cause!
Please Join us for this PREMIER EVENT! You won't want to miss it…
the best
DINNER PARTY
You'll go to all year!
Hope to see you there!
Gather for drinks at 4pm, sit down for dinner at 5pm!